We were happy to meet and interview Interpane's Sabine Dankesreiter (QA/QC Technician) and Luis Hidalgo (QA/QC Manager) for the insulating glass production. Sabine was the lucky one to win Sparklike Handheld™ device at glasstec 2016, the biggest glass industry event. Sparklike Handheld™ is optimal for non-invasive analysis of standard double glazed insulating glass units (IGUs). The device is portable and battery operated, thus practical and quick to use.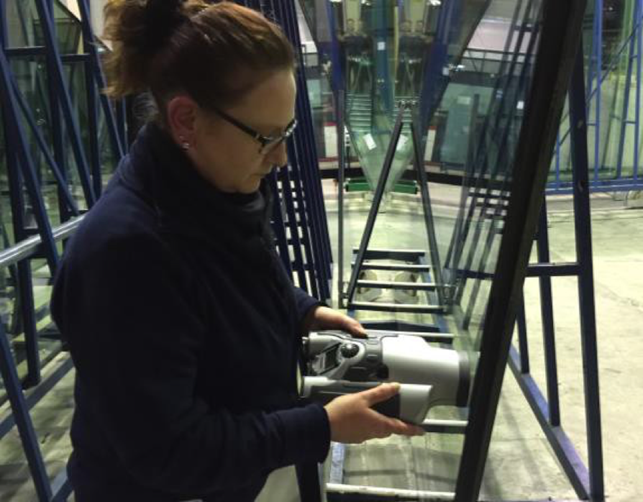 AGC-Interpane is one of the major European glass processors, producing over 250.000 square meters of insulating glass units only in Plattling facility per year. The corporate group comprises other production facilities in Austria, France, and Slovakia but their headquarter is in Germany.
AGC-Interpane provides a wide product range that includes float glass, high-quality coated insulating glass, all-glass doors and panels, to mention a few.
Interpane's reputation in the German and European glass, window and façade construction industry is legendary. Nowadays, the AGC-Interpane group – with factories at eleven locations in Germany, Austria, Slovakia and France – is so well established that it is difficult to imagine the window and façade sector without them. Therefore, Interpane takes great pride in being able to produce superior quality glass. In order to guarantee the non-stop quality control of their products, the company purchased their first Sparklike Handheld™ device in 2016. Before it, they ensured the quality of their glasses using test laboratories and invasive gas concentration measurements. This caused them some challenges, such as the lack of cumulative data and not being able to test the quality without invasive techniques requiring time extensive operations during the testing of finished insulating glass secondary seals. Hence, this created some environmental and cost-based challenges.
COST SAVING AND CUMULATED RESULTS
When we asked Sabine to name her favorite Sparklike Handheld™ qualities, Sabine replied by saying: "Sparklike Handheld™ is very easy to use, small but highly efficient gas concentration analyzer. I can simply place the device against the unit, press the button and receive an instant result with high accuracy. Furthermore, the data logging ability comes in handy when wanting to have accumulative measurement results."
Furthermore, the extra benefits that AGC-Interpane is looking forward to receiving from the non- invasive measurement, is to save on costs and time. This is mainly due to the fact that the non- invasive measurement does not require breaking the insulating glass unit or repairing the sealant components after testing with invasive techniques. In addition, with the help of Sparklike's patented technology, Interpane is able to conduct the analyses at any point of the production flow for double glazed insulating glass units. In other words, non-destructivity allows them to deliver tested IG units, test already installed units or perform long term testing to their production. To keep reading why there's no need to break the insulating glass unit in order to conduct insulating glass unit's argon fill analysis, click this link.
"We are very happy of the practicality of the Sparklike Handheld™ device. However, we are also considering of purchasing the Sparklike Laser™ device due to its capability to measure non-invasively the gas concentration of triple glazed insulating glass units, even through coated and laminated glass." says Luis Hidalgo.
EXTENDED PRODUCT LIFE
AGC-Interpane also received Sparklike CARE for their new Sparklike Handheld™ device, which is an annual care free service agreement. "We were very happy to find out that this new device came with Sparklike CARE. This annual service agreement makes sure that our Sparklike Handheld™ device is up to date, that we are gaining extended product life… and of course saving a good amount of money!" Sabine says laughing.